I grew up in a musical household in New Haven, Connecticut. My dad, musicologist John Platoff, introduced me to an enormous variety of classical, pop, and world music, and we sang often together as a family. I started studying trombone with Jim Fryer and Terrence Fay at Neighborhood Music School in fourth grade. After discovering the symphonies of Gustav Mahler at age 16, I decided to pursue music professionally.
I attended Northwestern University for my Bachelors of Music in Trombone Performance and Music Theory, and studied with Michael Mulcahy, Christopher Davis, Peter Ellefson, Randall Hawes, Timothy Higgins, and Douglas Wright (also counting Ian Bousfield, Per Brevig, and Warren Deck as important mentors I've learned from over the years). As a sophomore, I founded the Players Operation Chamber Orchestra, a 40-person ensemble that showcased the talents of student composers and soloists, and served as its conductor and artistic director.
After college, I moved to Miami Beach to begin a fellowship with the New World Symphony. In addition to performing weekly concerts and studying with visiting faculty, I produced and curated MIXTAPE, a live concert adaptation of the multi-genre listening parties I hosted in college, to a standing-room only audience, 42% of whom were attending a NWS concert for the first time.

This was also the beginning of my career as an educator, teaching my first lessons and masterclasses in addition to co-founding the Miami Brass Festival, a day-long clinic for high school-age brass students.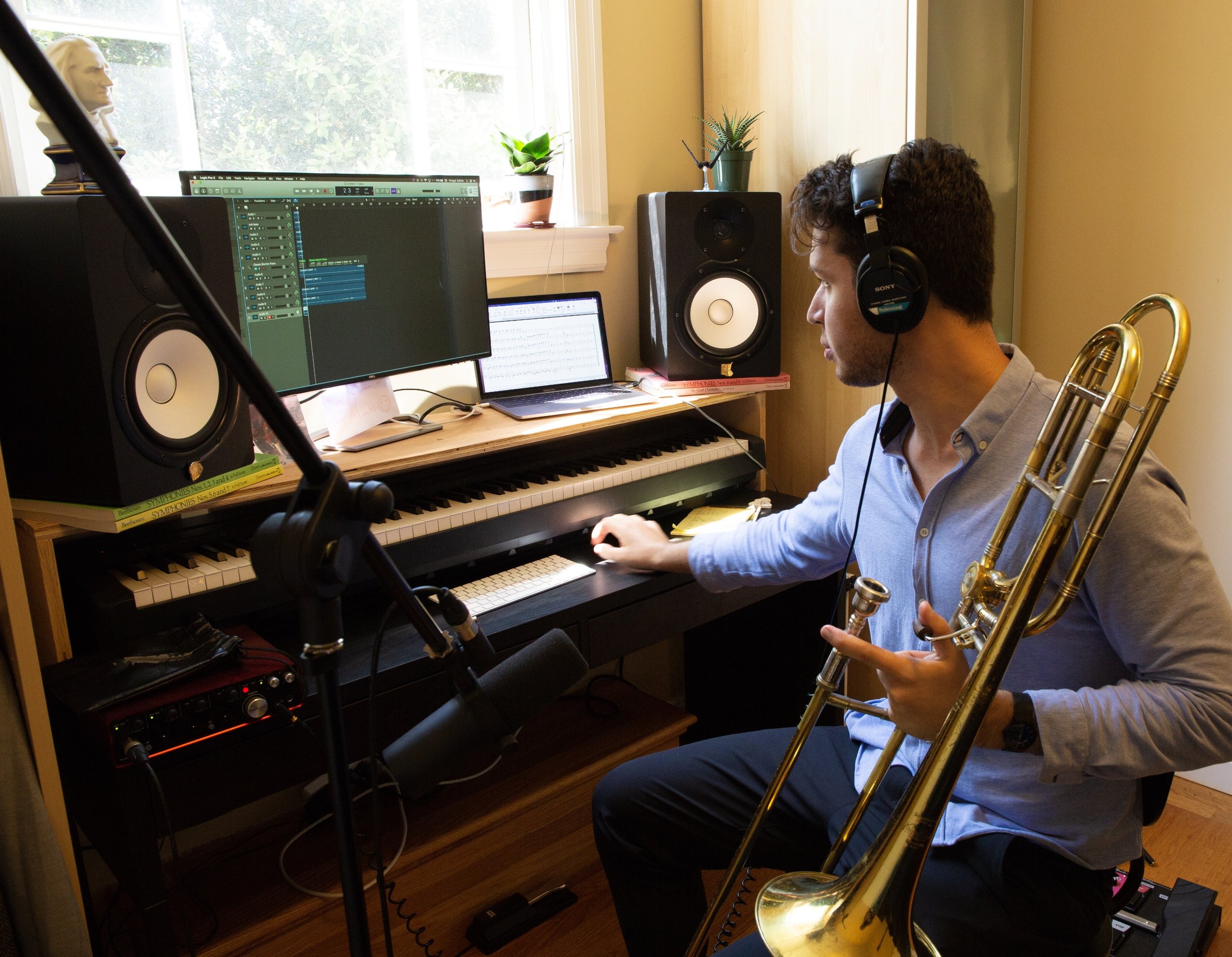 In September 2016, I joined the San Francisco Symphony as Associate Principal Trombone. Since then, I've had the pleasure of performing over 300 concerts with my first-class colleagues at our home in Davies Symphony Hall and many of the world's great concert halls.
Outside of my symphony work, I love making music whenever and wherever possible. I spend a lot of time composing and recording in my home studio, teaching locally and as guest faculty at the National Orchestral Institute, and performing solo with my loop station and as a member of the Miami-based Nu Deco Ensemble.
I feel extreme gratitude toward the many communities that have given me the opportunity to do what I love. To all of my dear friends, colleagues, mentors, and listeners: I appreciate you so much. Please know that every note I play is for you ❤️. If you'd like to get involved with the work I'm doing in the Bay Area with Global Shapers or the Sheltertech concert series, please email me here.